Women are the engine of the family economy in many Third World countries, especially in rural areas.
Supporting women's micro-entrepreneurship projects means giving concrete help to many communities, reducing social and gender imbalances; it means planting a seed that, by germinating, strengthens the economy on an even wider scale. It is with this conviction that Inaz gives its contribution to Mani Tese, a non-profit organization present in 17 countries with cooperation projects that support local development.
For some years now, Inaz has chosen to finance, as a donor company, some projects directly related to the development of female entrepreneurship in agriculture and food. These projects will not only promote the development of the rural communities of reference but, by personally involving the women of the villages, will also help to overcome gender inequalities and lay the foundations for future self-supporting activities.
December 2020 – "Also this year INAZ srl has decided to support our project "Innovative social enterprises and participation of migrants for social inclusion in Burkina Faso", allowing Mani Tese to support several women's cooperatives in improving their production processes. Also thanks to INAZ srl, Jeanne, her companions and many women like them will be able to gain their independence and strengthen their economic and social role within the community. Many thanks to INAZ srl that, together with us at Mani Tese, fights for a fairer world!"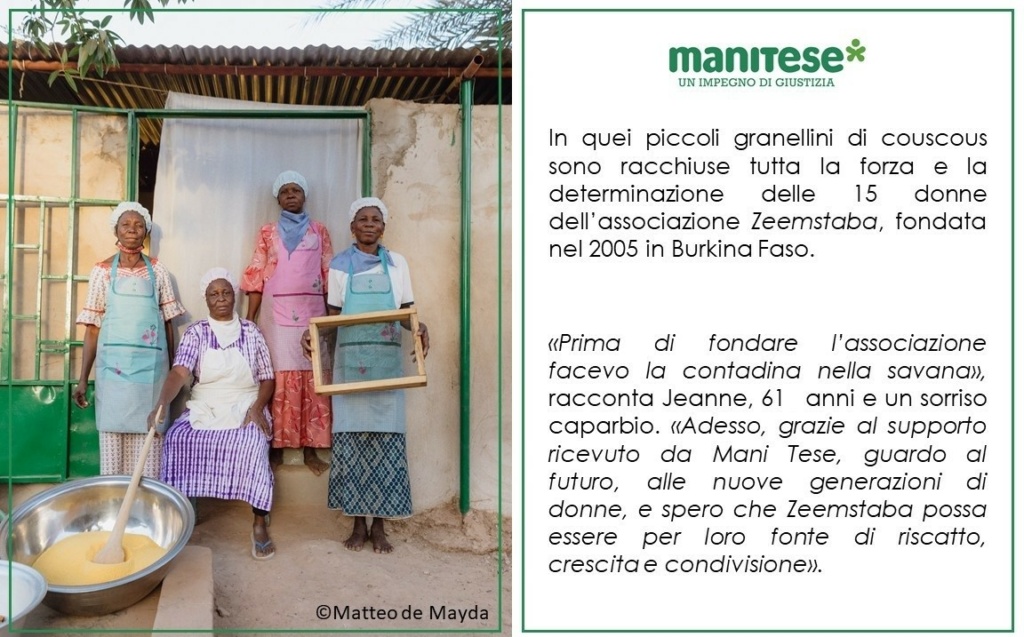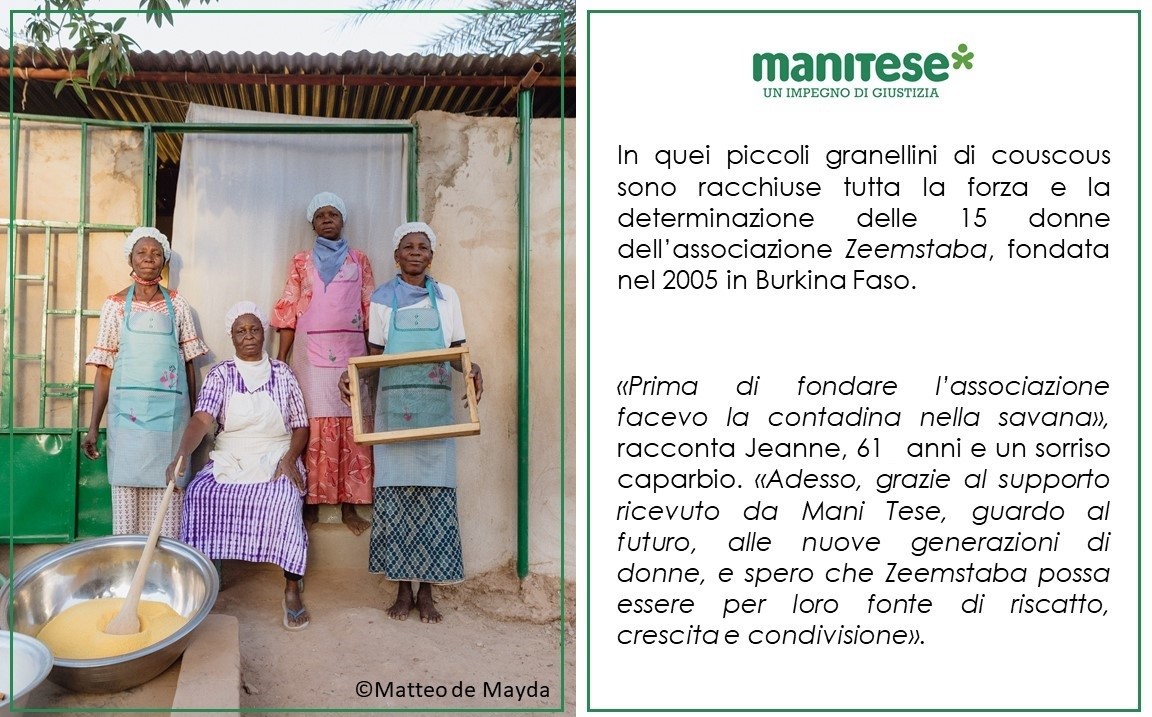 BURKINA FASO - PROVINCES OF BOULGOU AND BOULKIEMDÉ
The project aims to improve the living conditions of the rural population in Burkina Faso, supporting the development of productive, entrepreneurial and innovative activities, enhancing local agricultural and agro-ecological production and promoting the involvement of women, young people and migrants in Italy. The project also aims to promote the quality products of small local producers who find it difficult to position themselves on the market.
BURKINA FASO - 15 MUNICIPALITIES OF THE PROVINCES OF TAPOA AND BOULKIEMDÉ
In Burkina Faso, the food security of rural populations is at risk due to the backwardness of agricultural producers who, due to limited access to modern production methods, are at the mercy of climate problems, desertification and strong fluctuations in market prices. Moreover, it is an area where gender inequalities undermine the sociocultural, legal, institutional and technical development of communities. In Burkina Faso, Mani Tese works to include women in the processes of socio-economic development and to make accessible to farmers the means of production best suited to their context. The non-profit organization works on the training of farmers, develops a system of funds that encourage the economic activities of women, introduces improved seeds, builds outlets for raw materials, reclaims marginal land and creates laboratories for the processing of agricultural products. More than 16,000 people benefit from the intervention of Mani Tese in the provinces of Tapoa and Boulkiemdé.
SOUTH SUDAN - Province of LOBONOK
The project aims to encourage the horticultural production of women's groups in the province of Lobonok, South Sudan. The living conditions of women in this area are very difficult: most of the agricultural work, which is carried out with inadequate means, is on their shoulders, but they have no role in the management of the income derived from these activities. The action of Mani Tese aims to make women more aware and trained in modern farming techniques. It also provides the women farmers with seeds, natural pesticides, irrigation kits and agricultural tools and helps them with cleaning and plowing their land so that it becomes more productive.
All of this brings two benefits: food and income, income that these women will learn to manage effectively, acquiring a more active role in the economy of their families and communities.
BENIN - DEPARTMENT OF ATACORÁ
The project for Benin envisages the strengthening of women's groups involved in the cassava, peanut and soybean sectors (production, processing and marketing) with the idea of starting up real Women's Social Enterprises, in which the various associated groups can improve the services offered to their members and increase the storage capacity and access to markets for their products. In addition, training activities will be carried out in Italy and Benin in order to strengthen the awareness of the younger generations on the value of food and its production, with particular attention to environmental sustainability.
You too can help women's groups in the Third World together with MANI TESE